AN ALL-NEW HOTEL IN VICTORVILLE, CA
Welcome home to the Hotel Extended Studio Victorville, CA! Conveniently located along the 15 freeway. We are the newest/youngest hotel property in Victorville, CA. An ideal location and amenities, like free hot breakfast and free WiFi access, make Hotel Extended Studio Victorville the smart choice for business and leisure travelers alike.

START THE DAY WITH A FREE BREAKFAST

Get a head start on the day with a free hot breakfast buffet featuring a variety of morning favorites, like freshly baked waffles, eggs and fresh fruit. Choose from light continental fare, to hot and hearty favorites, and you'll have the fuel you need for the day ahead.

ROOMS DESIGNED FOR COMFORT, RELAXATION & PRODUCTIVITY

From the moment you step inside your spacious guest suites you'll feel at home and at ease. Featuring a variety of modern amenities and contemporary style designed for comfort, relaxation and productivity. Check emails with free WiFi, watch over 100 HD channels (including premium movies) on the 40-inch HDTV, and get a great night's sleep on our Tempurpedic/Memory Foam Beds.

ONSITE AMENITIES & SERVICES WORTH SMILING ABOUT

Traveling can be stressful, but not at HOTEL EXTENDED STUDIO VICTORVILLE, CA. Forget your toothbrush or craving a late night snack? Our 24-hour Suite Shop has you covered with an array of travel essentials and a selection of popular snacks and beverages. Plus, we always offer complimentary tea and coffee in our modern and welcoming lobby, so stop by and enjoy a cup or two. Traveling on business? Take advantage of our complimentary 24-hour business center complete with free high-speed Internet, computers and printers. Keep up with your daily workout routine in our 24-hour fitness center or unwind in the indoor pool or heated spa.

LOCATION

Situated in Victorville, this hotel is close to The Mall of Victor Valley, Victorville Municipal Golf Course, and Victorville City Hall. Area attractions also include Hesperia Civic Plaza and Mojave Narrows Regional Park.
Hotel Features
- Free daily hot breakfast buffet including freshly baked waffles, eggs, selection of meats, fruit, pastries, juices, coffee and tea
- Free WiFi access in guest rooms and throughout hotel
- Indoor pool and heated spa
- 24/7 Suite Shop market featuring travel essentials, snacks and beverages
- 24/7 fitness center
- 24/7 business center with free high-speed Internet, computer, printer and copy machine access
- Free hot coffee and tea available in the lobby
- Laundry facilities (coin operated)
- ATM in the lobby
- Full Kitchen with all Utensils, Fridge, Stove top, Microwave, Dishwasher, Desk, Sofa
- 39-inch flat screen TV with HD channels (including premium movie channels)
NO Pets Allowed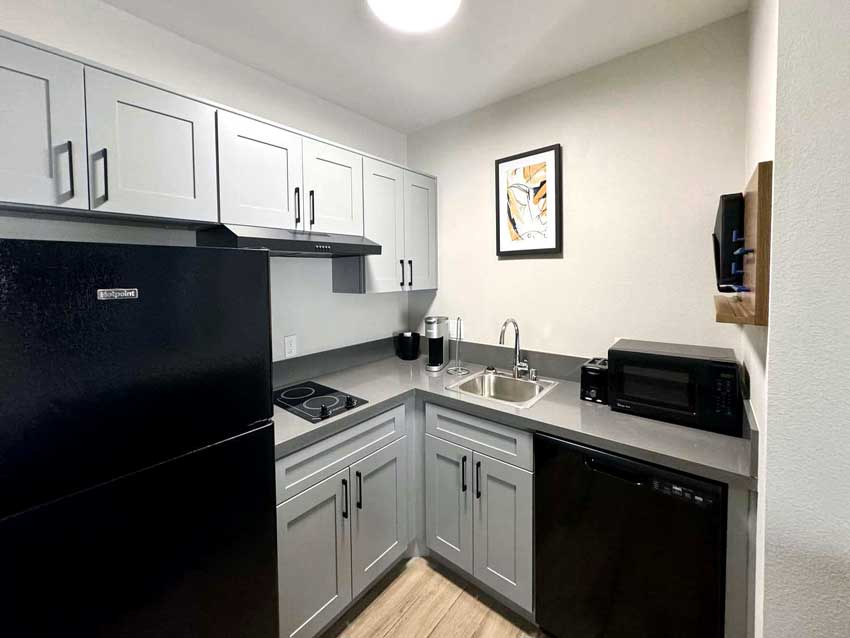 Activities : Victorville Recreation Services schedules, classes, and activities for residents. The department also oversees 18 parks and 1 golf course in the City.
Airport : Southern California Logistics Airport (SCLA), with a primary runway length of 15,050 feet and 360 days of "severe clear," it's no wonder large commercial operators like Boeing, Pratt & Whitney, and G.E. are calling Victorville home. Even the Antonov finds an abundance of maneuvering room.
Attractions : For those who were not part of the baby boomers era, during WWII, many communities near Army Airfields would be granted funds from the federal government to build local USO building to support their troops. So Imogene Garner Hook started of a drive to raise local funds for their own USO building in Victorville.
Dining : 14845 Monarch Blvd., Victorville, CA, 92395 The Victor Valley's exclusive Wine & Jazz club. The largest selection of wines by the glass, beer, plus tasty appetizers and gourmet desserts. Open 7 nights a week with Live Music every Friday and Saturday. Happy Hour every weekday 5pm-7pm.
Golf : Ashwood Golf Course is a wonderfully-maintained 27-hole golf course with three unique 9's that wind you through beautiful vistas and scenery unique to California's High Desert. Ashwood's greens and overall playing conditions are considered "The Best" in the High Desert thanks to our outstanding team.
Government : The City of Victorville provides a full range of services for residents. From Animal Control to Weed Abatement, if you have questions about a City service, this is the place to look.
Hospitals : Desert Valley Hospital, an innovative 148-bed acute care hospital located in the High Desert, California has a reputation for providing the state-of-the-art quality health care in seamlessly integrated model along with Desert Valley Medical Group, the largest multi-specialty medical group in the area since 1985.
Shopping : Want it? We've got it. Your favorite specialty shops and department stores, plus cravable food, movie theaters and much more in a classic, indoor shopping experience. When you're in the mood to shop the sales, meet for lunch, get inspired or escape from it all, we're the place. New denim, a fresh, fun lip color or the shoes you can't live without – we understand great shopping. And it's all here.
University : Victor Valley Community College uplifts the diverse communities we teach and serve by promoting educational excellence, enhancing local prosperity, and ensuring environmental leadership.
Extended Studio Hotel Victorville Victorville California CA Hotels Lodging Accommodations Budget Affordable Motels Cheap Vacation Packages Specials Pet Friendly Weddings Business Travelers Business Meetings Extended Stay